Tom's Flight Dreams
flightdreams.org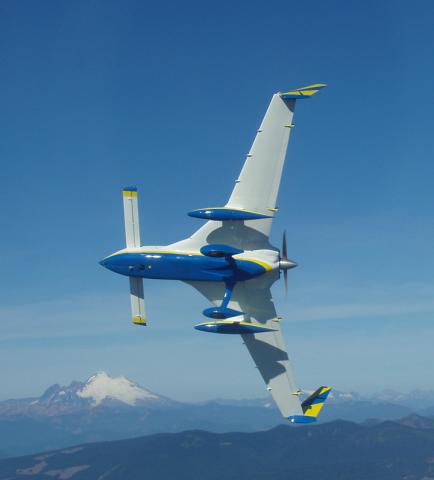 I've topped the winds-swept heights where never Lark or even Eagle flew...
"You can only tie the world record for flying low."
– Anonymous
"The most dangerous airshow pilot is the one who starts believing his own press releases"
Wayne Handley
Respected Airshow Pilot
1998 ICAS Convention
Team-EZ – Long-EZ Aerobatics
Although the Long-EZ was never intended as an aerobatic plane, it does have limited aerobatic capabilities. It can perform a loop and an aileron roll, which can be combined into a series of maneuvers, including 8-point rolls, barrel rolls, Cuban Eights, and others. Long-EZ N13YV is unusual in that it was capable of performing sustained inverted flight, limited only by the lack of a full inverted fuel and oil system.
I created Team-EZ, Inc. as an airshow business, with a primary goal of sustaining itself, and a secondary goal of growing it to a 3-plane formation team. I tried to bring a regimented, business approach to my airshow business, and it was reasonably successful. Although I never earned a living wage from Team-EZ, it paid for significant upgrades to the plane, gave me invaluable business experience, and let me enjoy the traveling and people that airshows across North America provided.
Below is a graphic representation of my routine when I stopped flying airshows in 1999. All maneuvers where my energy vector started in the upward direction were started at about 50', whereas maneuvers that had the energy vector headed down at the end were finished at 200' AGL.
Most maneuvers were intended to be flown at 3 g's or less, although I exceeded this on occasion.
Routine for my last performance October 1999, written using the Aresti notation system
Not often anyone gets to fly this close to the Blue Angels
Kay Staggs, my best friend and travelling companion
Signing autographs for kids - the best part of the job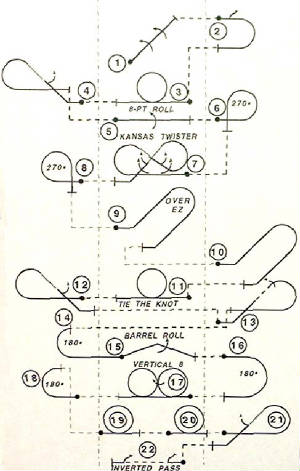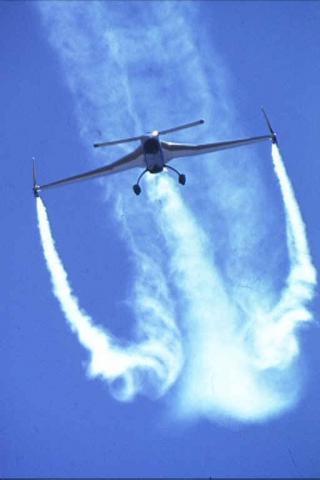 Wonderful shot of me in the Long-EZ by Jay Tolbert taken at the 1999 Arlington Airshow
There are lots of aspects of airshows that I miss: the great people, very few restrictions on the flying during the show, the friendly people in the towns where the shows were held, the good friends I made amongst the performers and volunteers, and chance to share my love of aviation with a new generation of kids.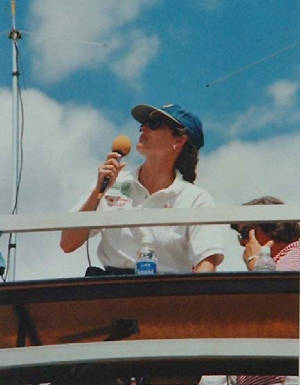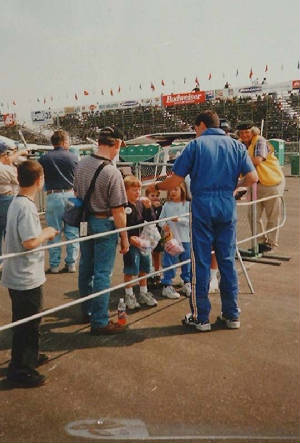 Interestingly enough, I also really miss the cross-country flying getting to/from the shows. The challenges of keeping a schedule while flying thousands of miles across all sorts of terrain while battling weather was a lot of fun. I have been able to continue to satisfy a portion of that enjoyment by going Flyabout.
I was also fortunate to be supported by an incredibly understanding wife, Kay, who travelled with me to many shows and acted as my announcer, doing a better job than many of the "professionals".
Some interesting statistics from the 8 airshow seasons in which I performed in the Long-EZ:
Total attendance of over 2.5 million spectators
In order to fly shows, the only changes I made to the plane were the installation of a supplemental fiberglass tank in the rear seat to hold smoke oil, plus adding a pump for the smoke oil, which then routed it through plumbing to the exhaust. I also installed brackets and wiring for smoke grenades at the wingtips. All of this was controlled by a Master Arm switch on the panel, as well as controls on the panel and stick to enable me to activate the smoke systems.
To view a video of what aerobatics looks like from the Long-EZ, click here: http://vimeo.com/21427413
One last interesting observation: I figure I signed somewhere over 10,000 autographs in 8 years, and most of those were for young kids. If just 1% of them were inspired to pursue a career or passion for aviation, then my effort will have been worthwhile. Seeing the kids faces at the crowd ropes after my performances was invariably the highlight of any show.