Tom's Flight Dreams
flightdreams.org
2007 Flyabout

Terry Yakes, Rough River, Mustangs and Family
I needed another break from working on the 787 when I thought about heading out again on a Flyabout. The initial plan was to fly to Olathe, KS and pick up my old friend and mentor, Terry Yake, who was fighting cancer. From there, he and I would head off to the big annual canard fly in at Rough River, KY, the turn left and go to Columbus, OH for the Gathering of Mustangs, an event predicted to have at least 51 P-51 Mustangs present.

As I hoped, everything came together. Terry was in good shape and even better spirits. We had a great time at the Rough River event, and then flew up to stay with a friend of mine from my days at Honeywell Avionics and Grimes Aerospace, Bob Walter.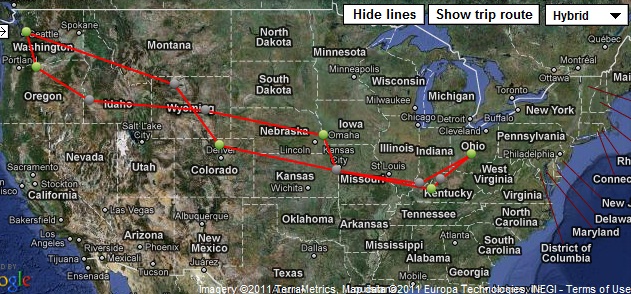 The three of us spent an amazing day walking the ramp in Columbus, the original home of the Mustang. There were over 80 Mustangs present, as well as B-17 Fortresses, P-40 Warhawks, P-47 Thunderbolts, P-38 Lightnings, F-4U Corsairs, Vickers Wellingtons and countless other planes. Watching a flyover of more than 50 Mustangs was something that I will never forget. Honestly, though, it was the sound of the engines that will float in my memory forever - the coughing of the radials on the B-17 during start, or the drone of 50+ Merlins overhead.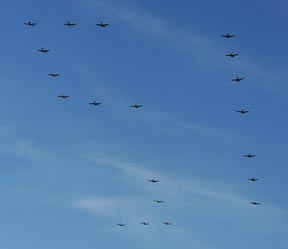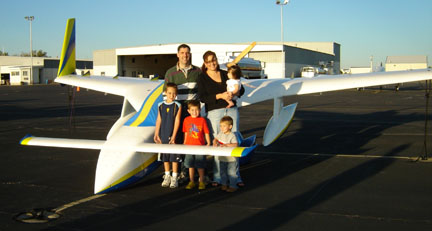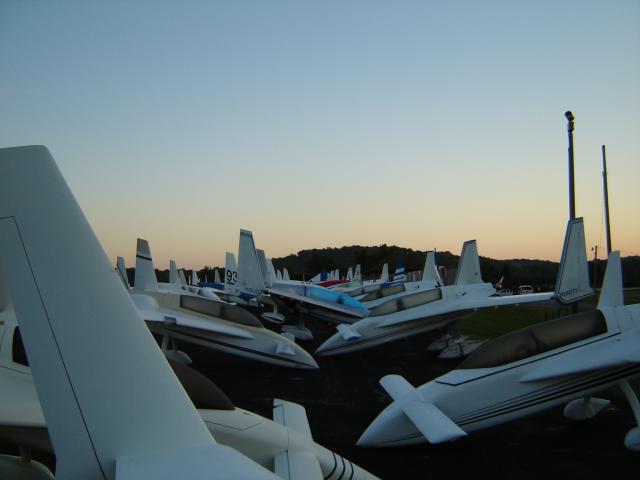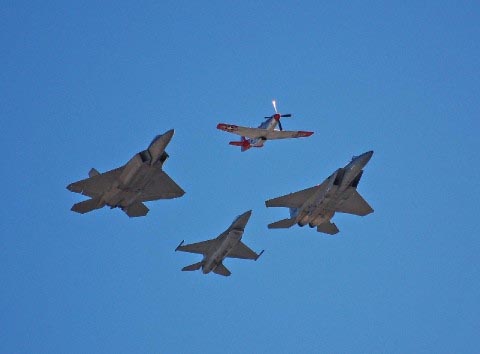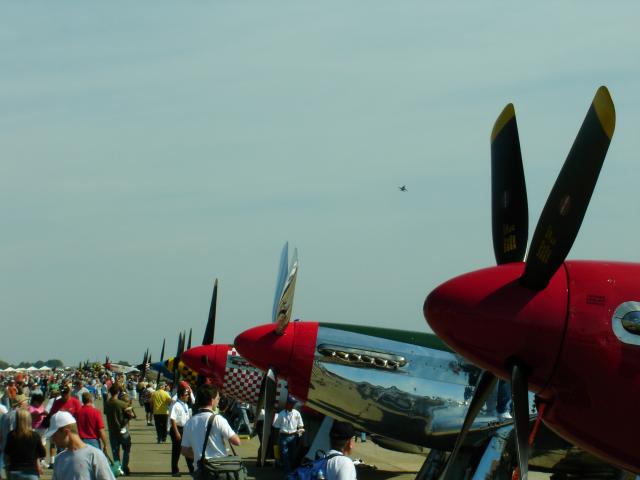 Canards lined up at dawn in Rough River, KY

All told, I covered 4,200 miles in 29 1/2 flight hours. Throughout, I had a great time visiting friends across this big country, and I got to get back to where I am happiest: the sky.

Terry Yake in front  of the Wellington. One of his objectives on this trip was to get audio recordings of the different planes, a project that got both of us to take in the event through a different perspective.

There were over 100 warbirds present, and we were fortunate that the day we attended had by far the best weather of the 3-day event. P-51's were lined up wingtip to wingtip for the better part of a mile - something none of us are likely to see again.

The Department of Defense has created "Heritage Flights" that allows civilian-owned and flown planes to be in formation with current active duty warplanes. At this event, I was fortunate to see a P-51 Mustang, F-15 Eagle, F-16 Fighting Falcon, and F-22 Raptor in a diamond flyby.


One of the many fly-overs that day, including this attempt to spell "51" with Mustangs

I stopped by in Ft. Collins, CO to visit my cousin Melissa and her kids, Braeden, Connor, Trevor and Hailey.