Tom's Flight Dreams
flightdreams.org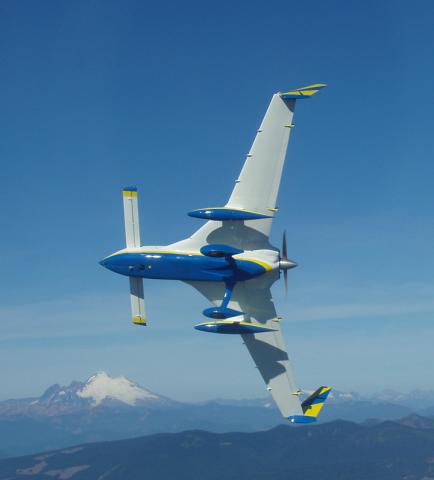 I've topped the winds-swept heights where never Lark or even Eagle flew...
Airplane Systems
Systems shown below include:
Engine, Propeller and Fuel injection
Avionics and Instruments
Landing Gear, Brakes and Wheel Pants
Baggage Pods
Engine and Propeller:
Avionics:
Transponder: BendixKing KT-76A
NavComm: BendixKing KX-165
IFR GPS: BendixKing KN-94
VFR GPS/Comm: BendixKing KLX-135A
Intercomm: PS Engineering PMA 4000
ADI: Dynon D10A
HSI w/ map: Sandel 3308
Autopilot: Navaid Device AP-1
Weather and Traffic: Garmin Aera 510 w/ XM weather
Traffic Sensor: Zaon XRX remote-mounted in nose
Engine Monitoring:
Fuel Flow: JPI Fuel Scan 450
RPM: JPI Slimline Tach
Clock: Davtron
EGT/CHT: Electronics International US-8A
Fule Qty: Electronics International FL-2
Oil Tº/Pressure: Electronics International OPT-1
Volt/Amp: Westach Dual Volt/Amp gage
Landing Gear, Brakes, and Wheel Pants:
Main Wheels: Grove 57-1A
Brakes: Grove 32-4A
Brake Lines: Replaced per-plans nylon with aluminum
Main Tires: 5.00-5 6-ply (various brands
Wheel pants: Own manufacture
Nose wheel: 2.80/2.50 4-ply
Nose gear retraction: Wilhelmson NL-1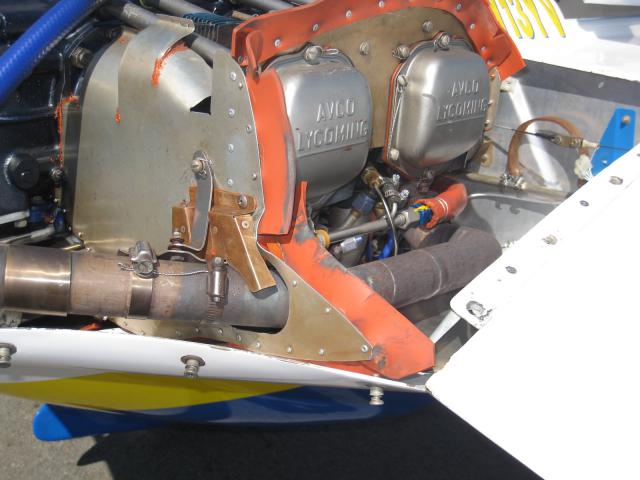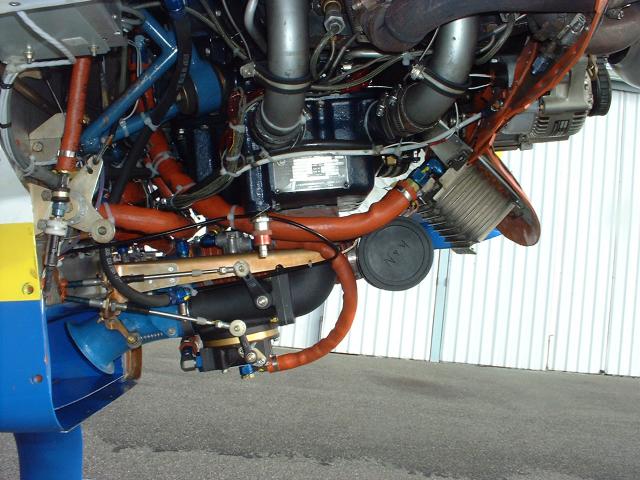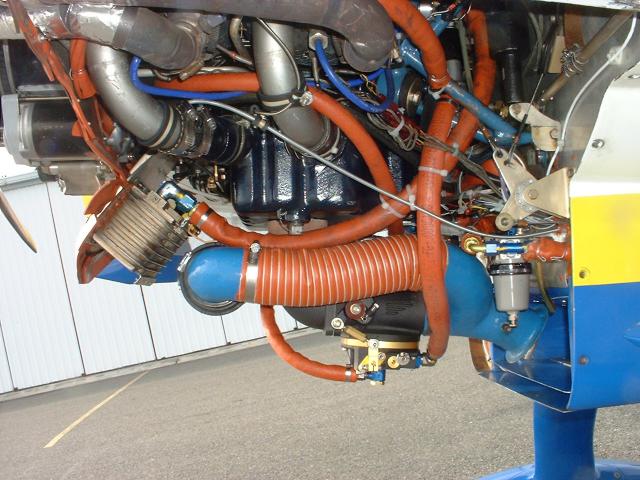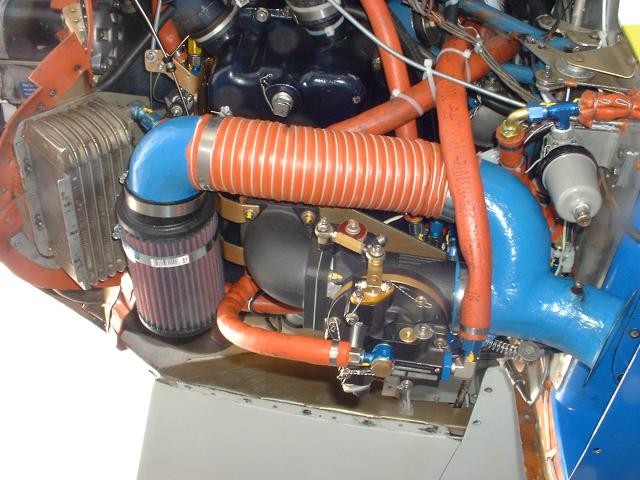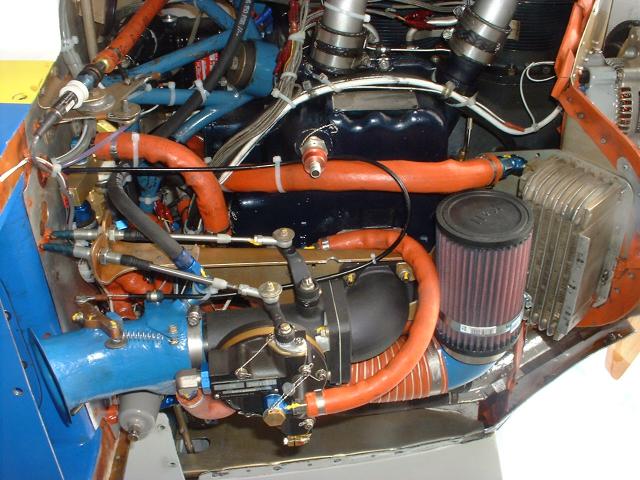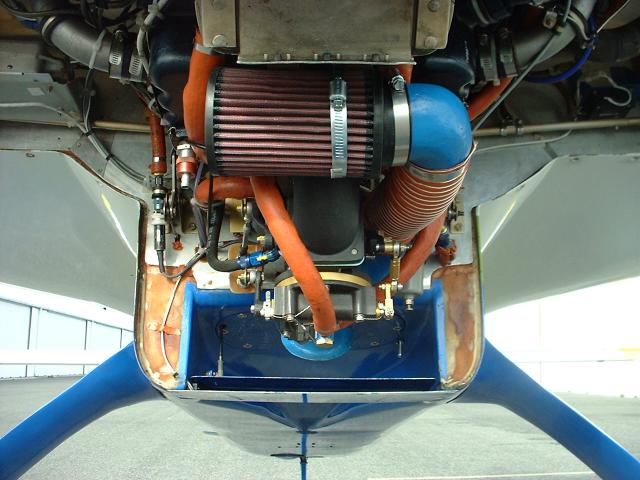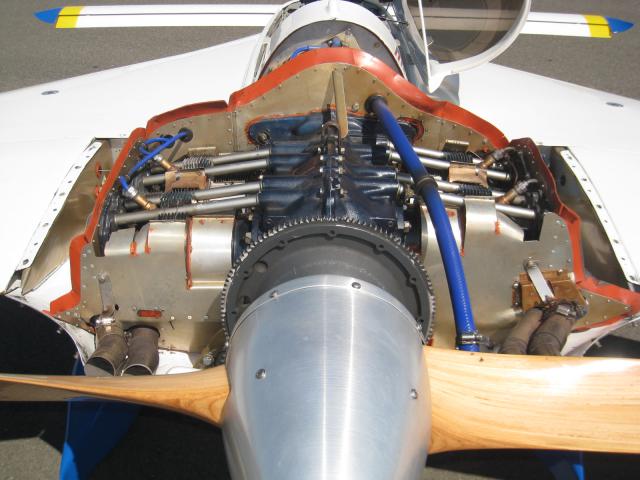 Engine from above and behind
Engine from Left side - above and below
Engine from Right side - above and below
Engine from below and behind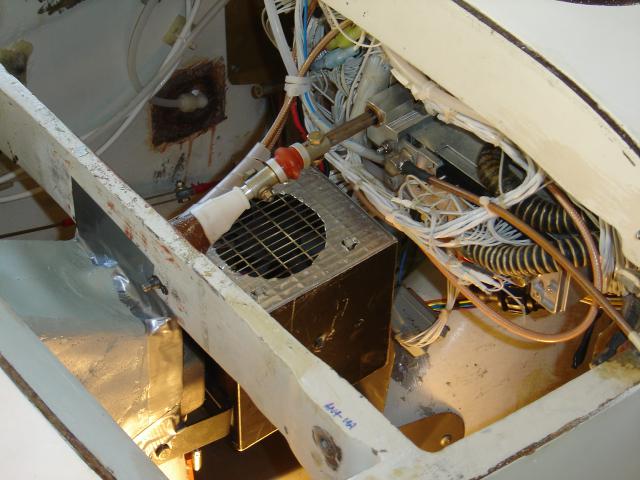 Instrument Panel in flight in 2011
Mechanical linkage has two U-joints, requiring stabilization. Achieved by mounting block to rear corner of radio stack.
Baggage Pods:
Pod: Featherlite manufacturing
Pylon: Replaced with longer (farther from wing) with same airfoil as wheel pants
Dual use: Pods can carry baggage or additional 13 gallons of fuel a side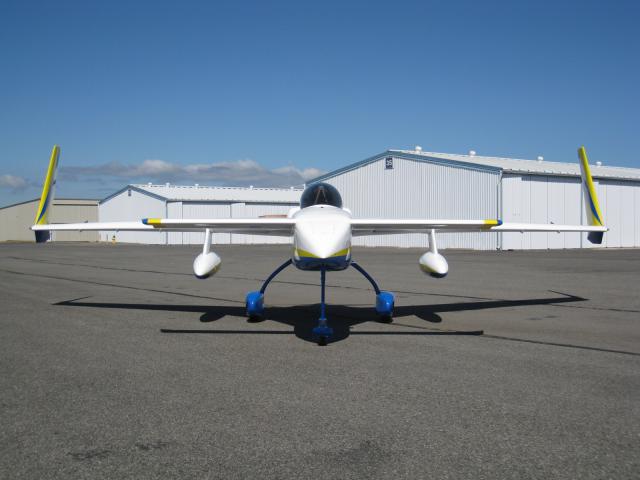 Components of Wilhelmson nose gear retraction system
Invictus in flight, showing off both the baggage pods and wheel pants