Tom's Flight Dreams
flightdreams.org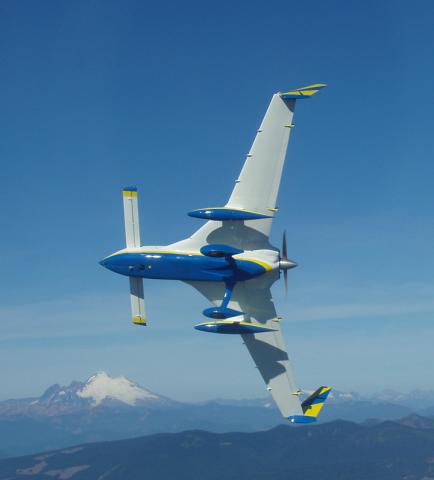 I've topped the winds-swept heights where never Lark or even Eagle flew...
Boeing KC-46A Pegasus
The US has maintained an aerial refueling capability since the first demonstrations in 1925, up through fielding of a practical system in 1950. Ever since then, the primary refueling assets for the USAF have been based on Boeing airframes: the B-50, KC-135, KC-10, and now, the KC-46A.
The KC-46A was the winner of a series of contests between Boeing and Airbus, with the eventual winner being Boeing's design, based on the 767 airframe, which has been in production since the early 1980's.
The design incorporates many aspects of the commercial 767 freighters, such as the large cargo door, but includes various military-specific capabilities, such as an aerial refueling boom, as well as 3 hose and drogue systems. Additional capabilities include the ability to conduct all operations using night-vision lighting systems, as well as maintaining overarching situational awareness through the use of various datalink communication systems.

I have had the privilege of working on the KC-46 since July 2010, first leading the Flight Deck Crew Operations team, which designed the layout of the cockpit, and later as the head of the Systems Integration and Test team.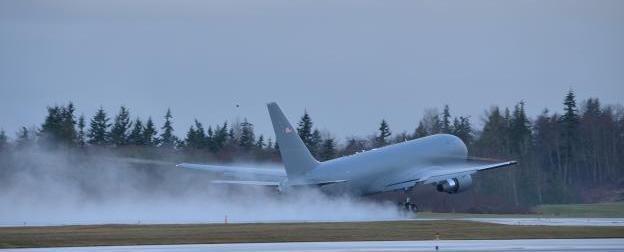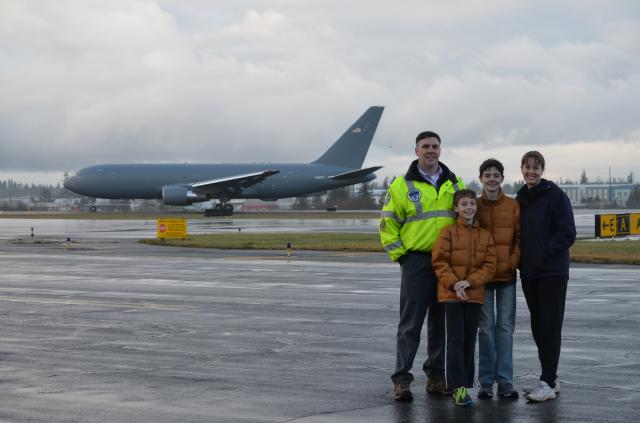 As I pose in front of the KC-46A Pegasus just prior to her lifting off on her first flight, I am joined by Kay, Sean and Alex, without whose support I would not have been able to achieve all that we did on the program.

Chief pilots Ron "Taco" Johnston and Maynard "Pat" Bearce bring the tanker in for her first landing at Boeing Field.

The Tanker program is technically two planes: the 767-2C, a commercial freighter with provisions for military systems to be added later, while the KC-46A is the 767-2C, with the addition of the refueling boom and WARPs (wing aerial refueling pods), as well as other military systems.

The 767-2C first flew on December 28, 2014 and has entered into its flight test program. The KC-46A configuration first flew on September 25, 2015.
The current contract is for 179 airframes, with options for several hundred more. The end objective is for the KC-46A to ultimately replace all the KC-135s, which have been flying since the early 1960's.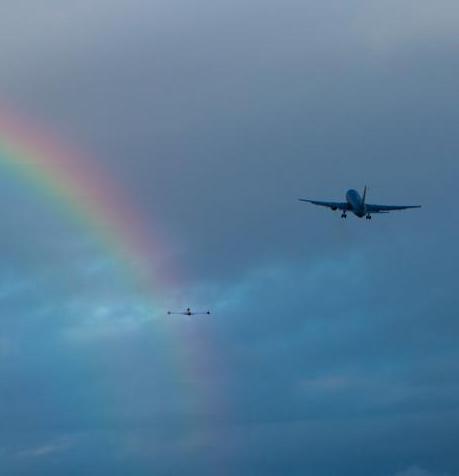 The 767-2C and its T-33 chase plane climbing out on its first flight, December 28, 2015.

Note: The rainbow really was there - it wasn't added to the photo.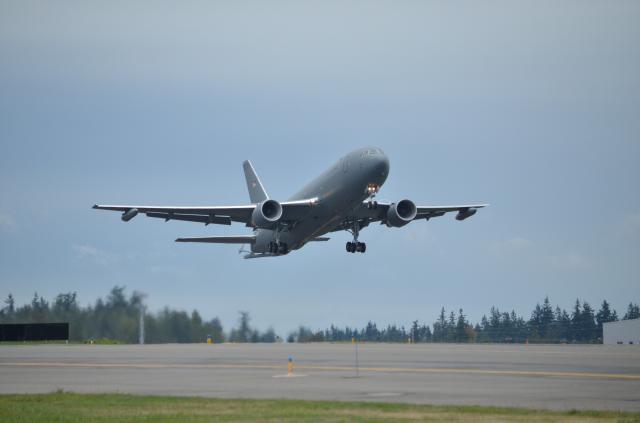 First flight of the KC-46A, lifting off from Paine Field, on September 25, 2015

The belly of the KC-46A as it cleans up after lifting off from Paine Field for its first flight on September 25, 2015